Matchmaker: The Reboot of the Accountant Profile
Matchmaker, matchmaker, make me a match
The ProAdvisor profile page was the calling card we provided to our accountant partners to help them connect to small businesses that needed accountant services. However, the current ProAdvisor profile page hadn't been updated in years and had a host of problems, including in-product discovery and a confusing editing process.
"The majority of my business comes from being listed on the ProAdvisor directory." - Veronica Wasek, Advanced Certified ProAdvisor
We wanted to find a new, refreshed way to make it easier for ProAdvisors and small businesses to connect.
Role
deliverables
Design strategy

Ideal user flows
TEAM Deliverables
Final wireframes/schematics

Final visual mockups/redlines
The Process: Audit
We started by looking at what already existed. Not only did the ProAdvisor profile have a confusing editing process and old branding, it was also buried deep in our QuickBooks Online for Accountants.
Additionally our stand-alone site for discovering ProAdvisors was not SEO optimized and also needed a brand refresh.
The Process: Heuristic of "Best In Class"
With a tight three-month timeline to launch, the team looked to best-in-class examples like LinkedIn for ideas on how to build a profile page that's effective and easy to use. Research on the redesigned employee profile page by Intuit's Payroll design team also informed the updates.
The Process: Flows
To ensure a holistic view, I focused on the flows and states needed for our ideal experience, where we could capitalize on the momentum of recently certified accountants (ProAdvisors) or incentivize non-certified accountants to take our free certification training so they could join the ProAdvisor directory and network. This work rolled into our roadmap for future phases.
The Process: Roadshow
After narrowing our focus to the profile page in QuickBooks Online for Accountants and the stand-alone version on our ProAdvisor website, the product manager lead, engineering lead, and I shared our work with Intuit's executive leadership.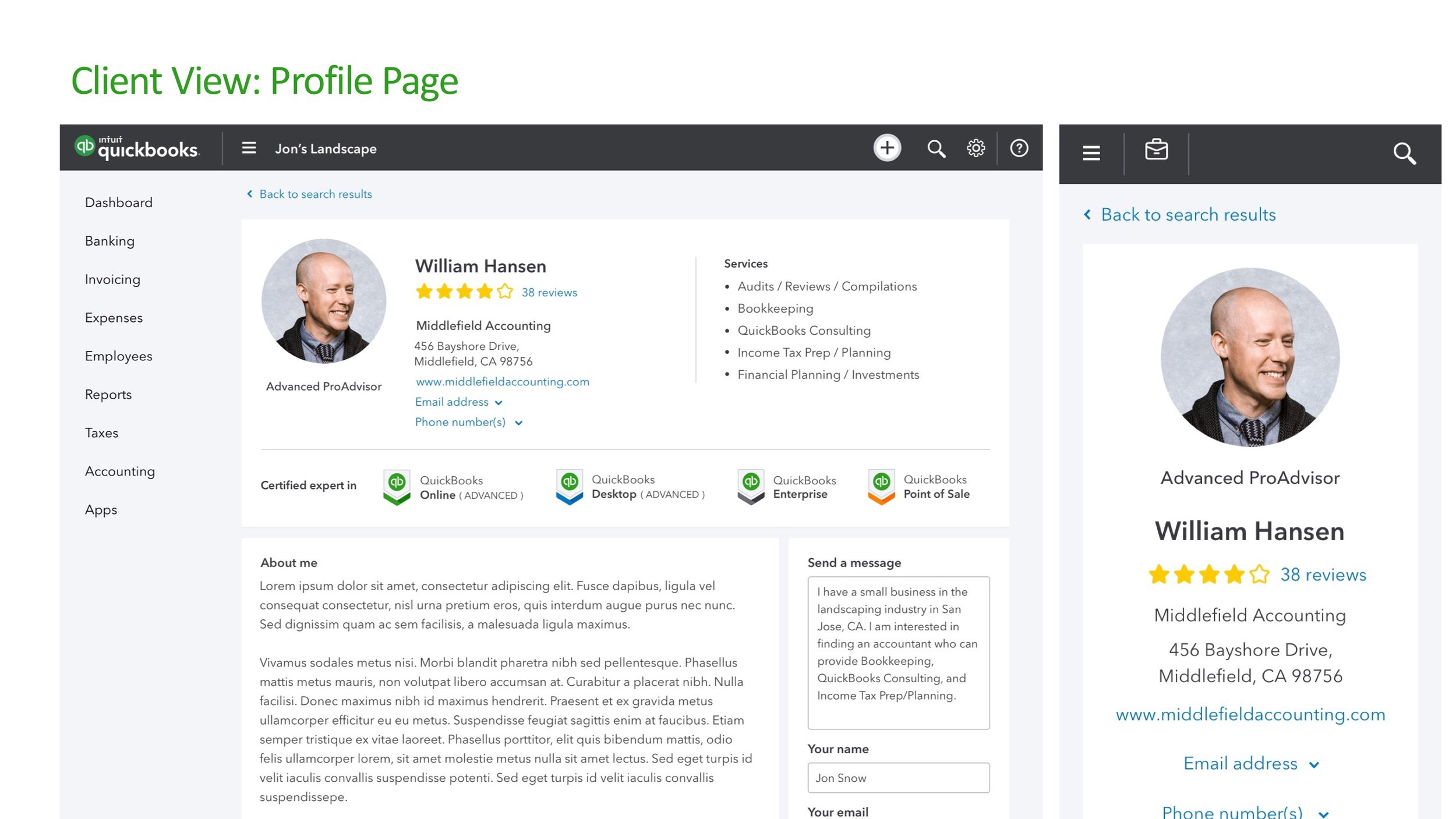 The Final Results: Launched + Live
By encouraging the team to focus on the features that mattered and providing guidelines for ideal flow, I was able to lead my team in rebuilding the Accountant Profile pages in three short months, just in time to debut the new site at the QuickBooks Connect Conference for an audience of 4000+ users.

Within the first six months, we saw a 238% increase in engagement with the Accountant Profile pages. We also drastically improved the process of connecting accountants to small business owners — the most important win for this project.
FINAL - ACCOUNTANT PROFILE: CUSTOMER FACING VIEW
For customers, we highlighted an accountant's reviews and services.

We also eased the process of connecting small business owners to professional accountants by creating a pre-drafted default message for their profile that included their industry, location, and requested services.
FINAL - ACCOUNTANT PROFILE + DASHBOARD: ACCOUNTANT VIEW IN QUICKBOOKS ONLINE FOR ACCOUNTANTS
For accountants, we created a dashboard view of their profile, providing information on how people interacted with it and what they could do to improve it.

We also organized things in a more logical "edit mode" order, starting with contact information, which was the most likely to need updating.
FINAL - FIND A PROADVISOR WEBSITE: LANDING PAGE
The final product included installing a geolocation API to default to the user's area during a search for local accountants.

We also allowed customers to search by services needed.
FINAL - FIND A PROADVISOR WEBSITE: SEARCH RESULTS PAGE
Accountants often have a niche industry. After user testing with customers we landed on this set of filters, which was the most useful for helping customers narrow their results.
FINAL - FIND A PROADVISOR WEBSITE: PROFILE PAGE
To create consistency, we made the customer-facing profile page the same for both in-product and out-of-product experiences.

Although the user wasn't logged in when they saw this view, we created a default message they could send to an accountant to get the ball rolling.