Two in a Box: QuickBooks Desktop + Online Bundle
Let's make a bundle
This was my first initiative at Intuit and an opportunity for me to use service design thinking to expose opportunities and pitfalls in an end-to-end experience.
It was a bold and risky initiative. We were tasked with showing a methodology that would convince Quickbooks Desktop users to switch to our SaaS product during application installation by giving them the first year free.
The Process: Audit
I began by auditing all of the primary purchasing channels for our QuickBooks Desktop product — including third-party resellers like Staples and Amazon — going through both the online and in-store (shelf selection) process.
Role
Design leader

Principal Interaction + Service Designer
DELIVERABLES
Bundle "Touchpoint" Map

Flows and early wireframes
Team Deliverables
Prototype

Final wireframes/schematics

Final visual mockups/redlines
The Process: Flows
I then unpacked existing data about the challenges of the QuickBooks Desktop installation process to see where improvements could be made and where we could pitch QuickBooks Online.
I created a touchpoint map highlighting possible points of confusion to address both upstream (e.g., what should we include in our retail boxes to ensure users understand the bundle?) and downstream (e.g., what happens when a user calls care with a question and their profile says they're a desktop customer?).
The Process: User Flows + WIREFRAMES
I created the primary flows and initial wireframes for users, showing the best breakpoint to pitch learning more about switching to SaaS during the installation of either our Mac or Windows desktop product.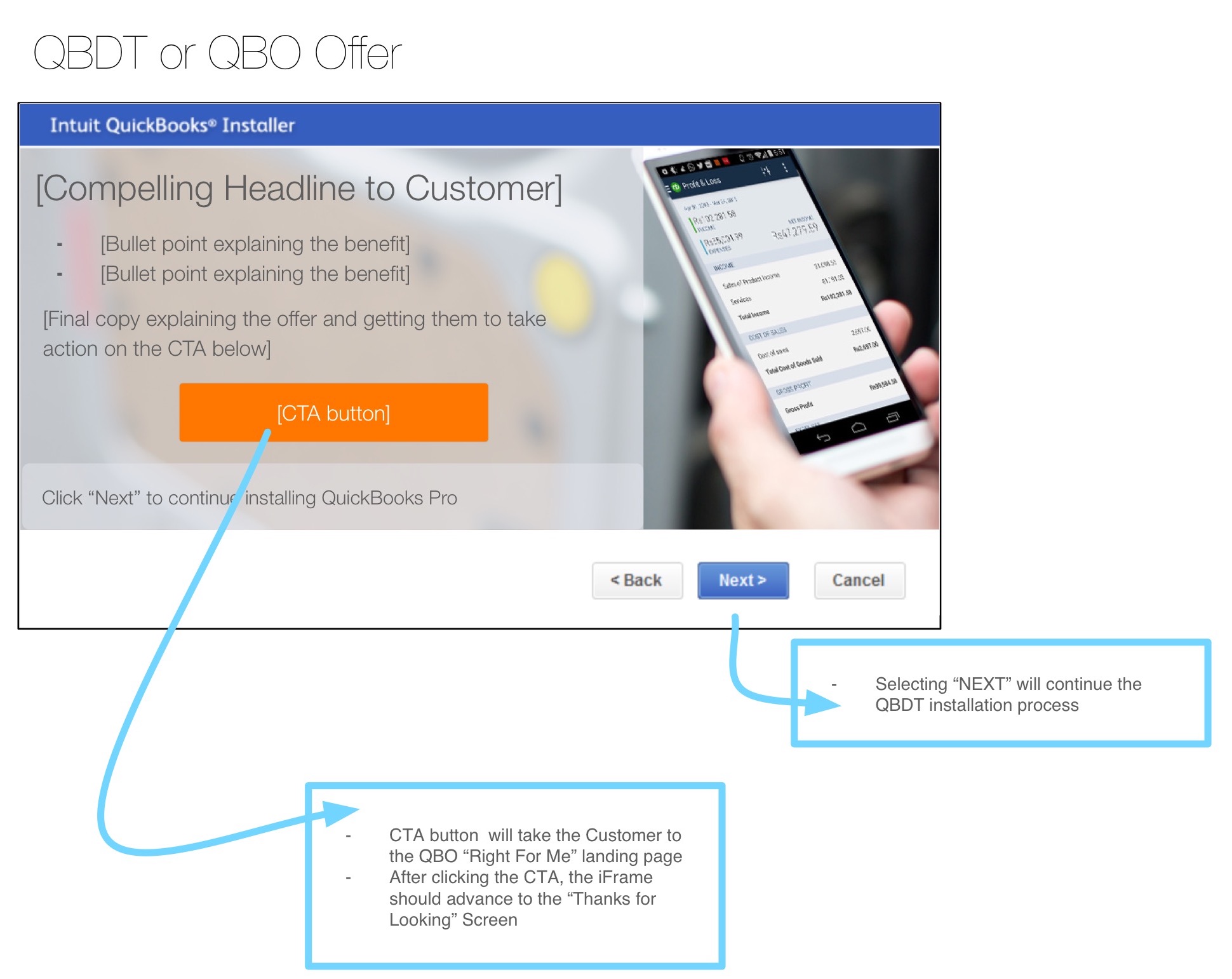 FINAL DESIGNS + Prototype
After completing a preliminary exploratory prototype myself, I led my interaction design team to create the experience for the pitch during installation as well as an interstitial screen helping users decide whether to switch to QuickBooks Online or continue to install QuickBooks Desktop.
We delivered a series of options to our marketing team so they could rapidly test and iterate on the copy and design.
Final Design: Install "Interruptor" Screen
FINAL DESIGN: The "Chooser" Page
New Retail Boxes
I collaborated with the marketing team on the new retail boxes to ensure there was solid voiceover in our retail experience explaining the two-in-a-box offer.